Wednesday, December 26, 2012
Posted by

Delayed Reaction Lounge
at 3:06 PM
No comments:
Links to this post


Tuesday, December 25, 2012
Marion Pellicano Ambrose
One of my favorite character actors passed away on Christmas Eve. Charles Durning, 89, whose film credits include "The Sting", "Tootsie","Dick Tracy," "Home for the Holidays," "The Muppet Movie," "North Dallas Forty" and "O Brother Where Art Thou?", and my personal favorite : Best Little Whorehouse in Texas", leaves behind more than just a legacy of film and TV roles. Durning appeared in almost 200 movies, countless television shows and dozens of plays, portraying a range of characters from Shakespearean fools to crooked cops to military veterans and even a priest. He was nominated for two Academy Awards and nine Emmy Awards and won a Tony Award for his performance as Big Daddy in a 1990 Broadway revival of Tennessee Williams's "Cat on a Hot Tin Roof."
But the thing I found most admirable about this man was not his acting career . The fact is,
Durning was a true, blue, WWII hero. According to Yahoo News: Durning was part of the U.S. force that landed at Omaha Beach during the D-Day invasion in June 1944. A few days later he was shot in the hip - he said he carried the bullet in his body thereafter - and after six months of recovery was sent to the Battle of the Bulge.
Durning, who was wounded twice more, was captured and was one of the few survivors of the Malmedy massacre when German troops opened fire on dozens of American prisoners. In addition to three Purple Heart medals for his wounds, Durning was presented the Silver Star for valor.
At an observation of the 60th anniversary of D-Day in Washington, Durning told of the terror he felt and carnage he saw when hitting the beach on D-Day. He said he had to jettison his weapon and gear in order to swim ashore and saw mortally wounded comrades offering themselves as human shields.
"I forget a lot of stuff now but I still wake up once in a while and it's still there," he said. "I can't count how many of my buddies are in the cemetery at Normandy."
Before his acting career, Durning worked as a professional ballroom dancer and teacher.
His other jobs included working as a comedian, night watchman, dishwasher, sightseeing guide, bridge painter, bricklayer, plumber's helper, bartender and cabdriver. At 30, he was delivering telegrams, while appearing in plays where his payment came from the passing of a hat. With all these life experiences, it's no wonder he became such an amazing character actor.
The world has lost a great actor and an outstanding human being. Rest in Peace Charles, you've earned it!

Posted by

Delayed Reaction Lounge
at 11:36 PM
21 comments:
Links to this post


Monday, December 24, 2012
THE CHRISTMAS STORY
Matthew 1:18-25; Matthew 2:1-12; Luke 1:26-38; Luke 2:1-20.

The Conception of Jesus Foretold

Mary, a virgin, was living in Galilee of Nazareth and was engaged to be married to Joseph, a Jewish

carpenter

. An angel visited her and explained to her that she would conceive a son by the

power

of the Holy Spirit. She would carry and give birth to this child and she would name him Jesus.

At first Mary was afraid and troubled by the angel's words. Being a virgin, Mary questioned the angel, "How will this be?" The angel explained that the child would be God's own Son and, therefore, "nothing is impossible with God." Humbled and in awe, Mary believed the angel of the Lord and rejoiced in God her Savior.

Surely Mary reflected with wonder on the words found in Isaiah 7:14 foretelling this event, "Therefore the Lord himself will give you a sign: The virgin will be with child and will give birth to a son, and will call him Immanuel" (NIV)

The Birth of Jesus:

While Mary was still engaged to Joseph, she miraculously became pregnant through the Holy Spirit, as foretold to her by the angel. When Mary told Joseph she was pregnant, he had every right to feel disgraced. He knew the child was not his own, and Mary's apparent unfaithfulness carried a grave social stigma. Joseph not only had the right to

divorce

Mary, under Jewish law she could be put to death by stoning.

Although Joseph's initial reaction was to break the engagement, the appropriate thing for a righteous man to do, he treated Mary with extreme kindness. He did not want to cause her further shame, so he decided to act quietly. But God sent an angel to Joseph in a dream to verify Mary's story and reassure him that his marriage to her was God's will. The angel explained that the child within Mary was conceived by the Holy Spirit, that his name would be Jesus and that he was the Messiah, God with us.

When Joseph woke from his dream, he willingly obeyed God and took Mary

home

to be his wife, in spite of the public humiliation he would face. Perhaps this noble

quality

is one of the reasons God chose him to be the Messiah's earthly father.

Joseph too must have wondered in awe as he remembered the words found in Isaiah 7:14, "Therefore the Lord himself will give you a sign: The virgin will be with child and will give birth to a son, and will call him Immanuel." (NIV)

At that time, Caesar Augustus decreed that a census be taken, and every person in the entire Roman world had to go to his own town

to register

. Joseph, being of the line of David, was required to go to Bethlehem to register with Mary. While in Bethlehem, Mary gave birth to Jesus. Probably due to the census, the inn was too crowded, and Mary gave birth in a crude stable. She wrapped the baby in cloths and placed him in a manger.

The Shepherd's Worship the Savior:

Out in the fields, an angel of the Lord appeared to the shepherds who were tending their flocks of sheep by night. The angel announced that the Savior had been born in the town of David. Suddenly a great host of heavenly beings appeared with

the angels

and began singing praises to God. As the angelic beings departed, the shepherds decided to travel to Bethlehem and see the Christ-child.

There they found Mary, Joseph and the baby, in the stable. After their visit, they began to spread the word about this amazing child and everything the angel had said about him. They went on their way still praising and glorifying God. But Mary kept quiet, treasuring their words and pondering them in her heart. It must have been beyond her ability to grasp, that sleeping in her arms—the tender child she had just borne—was the Savior of the world.


The Magi Bring Gifts: After Jesus' birth, Herod was king of Judea. At this time wise men (Magi) from the east saw a star, they came in search, knowing the star signified the birth of the king of the Jews. The wise men came to the Jewish rulers in Jerusalem and asked where the Christ was to be born. The rulers explained, "In Bethlehem in Judea," referring to Micah 5:2. Herod secretly met with the Magi and asked them to report back after they had found the child. Herod told the Magi that he too wanted to go and worship the babe. But secretly Herod was plotting to kill the child. So the wise men continued to follow the star in search of the new born king and found Jesus with his mother in Bethlehem. (Most likely Jesus was already two years of age by this time.) They bowed and worshipped him, offering treasures of gold, incense, and myrrh. When they left, they did not return to Herod. They had been warned in a dream of his plot to destroy the child.
Posted by

Delayed Reaction Lounge
at 11:58 PM
No comments:
Links to this post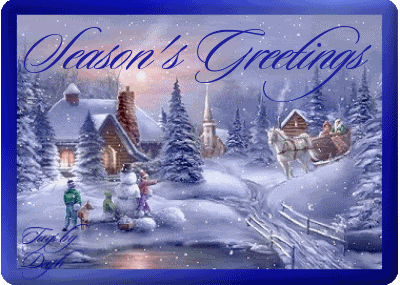 Wishing all our readers a very Merry Christmas!
May the peace, love, and joy of the season be yours!
Posted by

Delayed Reaction Lounge
at 11:50 PM
No comments:
Links to this post